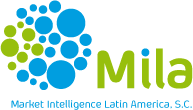 2012 Market Intelligence Latin America S.C.

MILA TEAM
Consulting Team:
Roberto Velázquez, Consulting Manager, has 4 years of experience in market research and assisting companies in tapping into specific sectors in Mexico. Roberto joined MILA in early-2011 and brought strong market research background as well as a deep understanding of international business practices. Roberto holds a degree in International Business from Universidad Iberoamericana in Mexico City; he has taken courses in statistics, programming, Italian (B1), basic French and German, energy management systems, accounting and futures and derivatives from S&P.
Carolina Soto, Consultant, holds a Marketing degree from Universidad Iberoamericana. She studied English at the King George School in Vancouver and at Global Village School in Victoria. Prior to joining MILA Carolina worked at the International Affairs Division of the State of Mexico Government where she assisted in social communication and events coordination. Carolina has developed market research reports in areas such as power, oil and gas, biomedical, agro-industries, clean-energies, energy systems protection, wastewater treatment equipment, landfill equipment, soil remediation and characterization, among many others.
Alliances:
MILA has developed a consulting network through alliances throughout Latin America. MILA's consulting partners follow MILA's methodology and quality standards for the MILA projects they support. Through its Latin American consulting network MILA offers services throughout the region in a cost-effective manner.